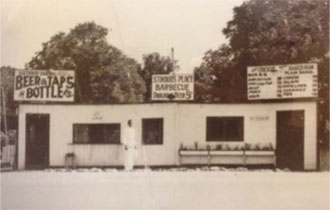 The year was 1933. Prohibition had just been repealed, we were between two World Wars and Stroud's Restaurant was built.
Stroud's started as a BBQ restaurant by Guy and Helen Stroud on the county line at 85th and Troost. The road house remained a BBQ restaurant until World War II. During the war, because beef was being rationed, Helen Stroud started serving pan-fried chicken. The original chicken dinner was only $.35!
In 1977, two Kelly's Westport Inn bartenders, Mike Donegan and Jim Hogan, purchased Stroud's. After inheriting a couple of Helen's cooks and recipes, they came up with the menu we still serve today.
In 1983, Mike Donegan, his twin brother, Dennis, and Jim Hogan purchased Oak Ridge Manor in the northland. A third location in Wichita, Kansas, joined the Stroud's family in 1992. The original Stroud's location closed its doors in 2006, and re-opened in Fairway, Kansas, in 2008. The Fairway location joined forces with KC Hopps in 2013, and together they opened locations in Overland Park, KS, Independence, MO and Omaha, NE.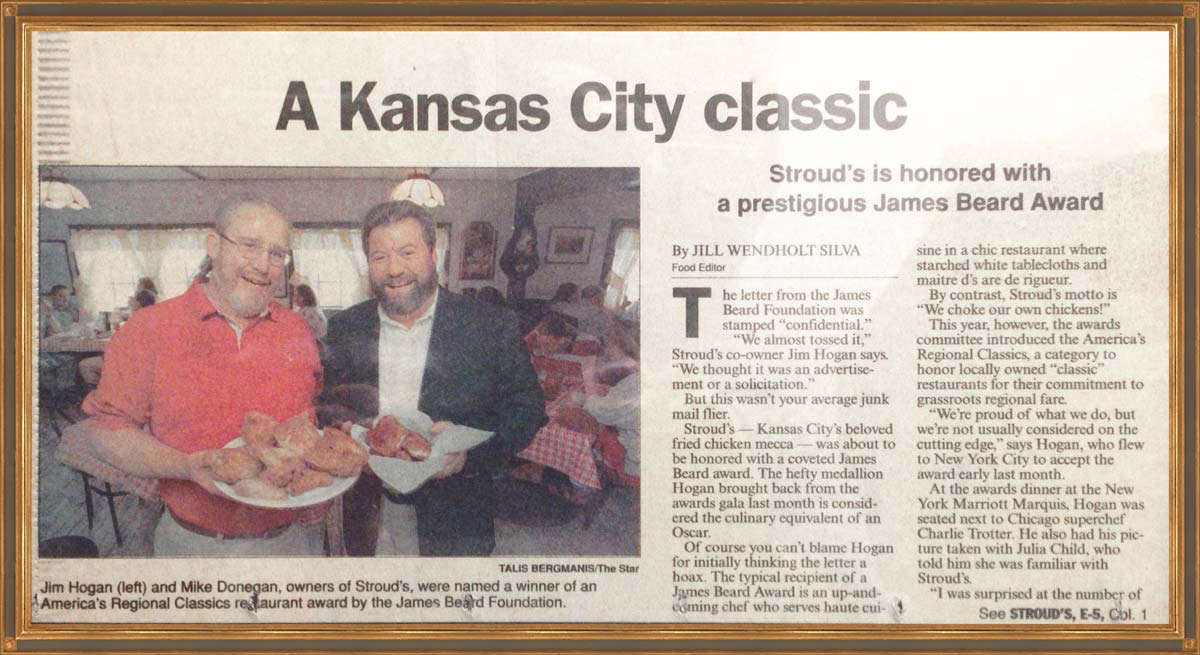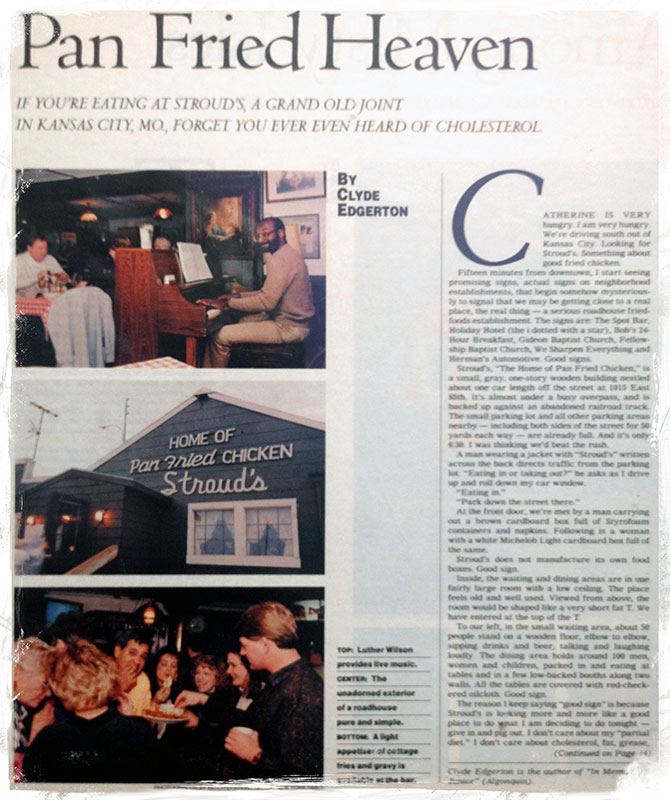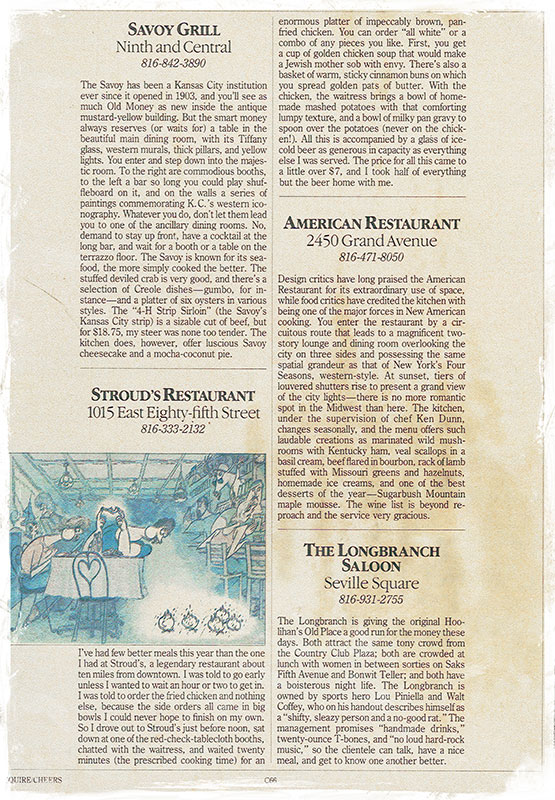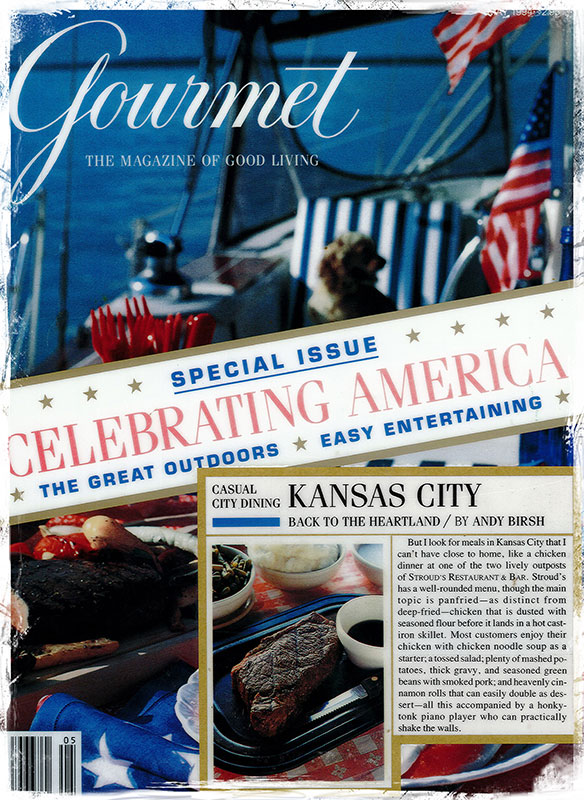 Through the years, Stroud's has received many national awards including the James Beard Award for Excellence and the Zagat Award for Best Restaurant. Stroud's has been honored with appearances on the Travel Channel's
Man v. Food
and
No Reservations
, Food Network's
The Best Thing I Ever Ate
and KCPT's
Check Please
. Stroud's has also been featured in several national and international publications.
The Wall Street Journal, Gourmet Magazine, The New York Times, People Magazine, Esquire, Bon Apetite!
and
Playboy Magazine
, to name a few.
Mike Donegan, along with his caring and professional staff, operate all of our Stroud's locations with the same ultimate goal of serving delicious, home-cooked meals in a fun, friendly atmosphere.
Thank you for dining at Stroud's!
Celebrity Sightings at Stroud's
Adam Richmond
Andy Reid
Art Ginsberg
Barbara Eden
Barry Switzer
Bill Buckner
Bill Hanna
Bill Self
Billy Butler
Bob Boone
Bret Saberhagen
Brooks Robinson
Calvin Trillin
Champ Bailey
Chris Christie
Cotton Fitzsimmons
Derrick Johnson
Doc Gooden
Don Larson
Earl Duffy
Eric Clapton and Band
Famous Amos
Frank Bank
Gay Brewer
George Brett
George Wendt
Goo Goo Dolls
Hank Bauer
Harry Caray
Jan Stenerud
Jason Vargas
Jim Sundberg
Joe Torre
John Boehner
John Grisham
Johnny Orr
Kate Spade
Ken Osmond
Kevin Seitzer
Kirstey Ally
Lamar Hunt
Len Dawson
Leroy Neiman
Lou Pinella
Mike Brewer
Phyllis Diller
Reggie Jackson
Rob Riggle
Robert Altman
Rue McClanahan
Rush Limbaugh
Tom Watson
Trent Green
Whitey Ford
Wolfgang Puck
Yogi Berra
HOURS
Monday: 4pm to 9pm
Tuesday - Thursday: 11am to 9pm
Friday & Saturday: 11am to 10pm
Sunday: 11am to 9pm